『SLAM DUNK』 Ryota Miyagi Complete Figure
Reservation start!!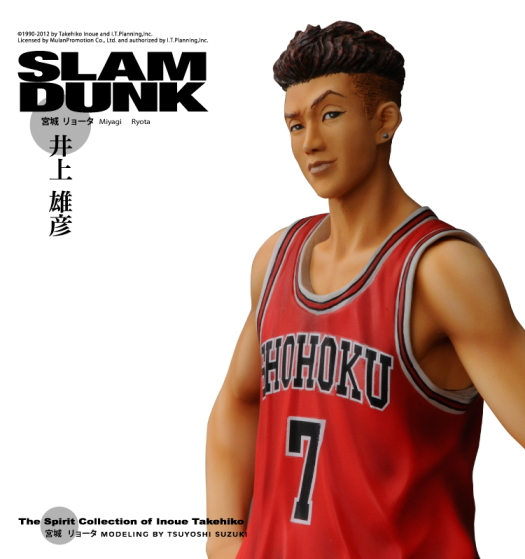 Copyright©1990-2017 by Takehiko Inoue and I.T.Planning,Inc.
Licensed by Mulan Promotion Co.,Ltd. and authorized by I.T.Planning,Inc.
TOPICS
The spirit collection of Inoue Takehiko Reservation
『SLAM DUNK』 Ryota Miyagi Action Figure
It was decided to sell the long-awaited item,Action Figure of SLAM DUNK finally! On sale now!!
Mr.Takehiko Inoue,the auther of SLUM DUNK,supervised himself, 『SLAM DUNK』Ryota Miyagi Action Figure is decided to sell finally!! He spork very highly of its quality…please be satisfied with this Action Figure!!
※PRESENT
We'll send the flyer (A4 size) of the figures (supervised by Inoue Takehiko) for all of the consumers.
*This project will be finished as soon as the flyer and poster run short.
※Currently, Alipay payment system cannot be used.
Only Paypal can be used.I hope you understand.
<Details of the item>
●Name
『SLAM DUNK』 Ryota Miyagi Action
Figure&nbsp
●Name of the work
SLAM DUNK
●Price
9,280YEN (about $83)
●Date of sale
late April ,2018 or
May ,2018
●Stuff etc.
PVC(Poly Vinyl Chloride) / The finished and
/ With pedestal
●Height
About 230mm
●Weight
1,500g
●Supervision
Takehiko Inoue
●Mold producted
Tsuyoshi Suzuki
●Producted
TK Holdings Co.,Ltd.
※Postage is besides.
※The price for overseas includes the commission of packing
and etc.
※This product is the advance order item,so we'll send you after
starting selling.
※We'll stop selling as soon as the order reaches the expected
quanty.
『SLAM DUNK』 Ryota Miyagi Action Figure
●This site is linked by the official one!!
This site is linked by the official one!!
This site is the only site of selling SLUM DUNK figures for overseas linked by the official site of Mr.Takehiko Inoue ( http://itplanning.co.jp/previous/whate.html ) You SLUM DUNK fans of foreigner will be able to buy rare goods without worrying imitations and frauds.
→ The official site「INOUE TAKEHIKO ON THE WEB」
※This site is linked from the caption in UPDATE
UPDATE & INFORMATION,12.11.08「It was decided to sell the long-awaited item,Complete Figure of 『SLAM DUNK』Ryota Miyagi finally! 」